Parts Specials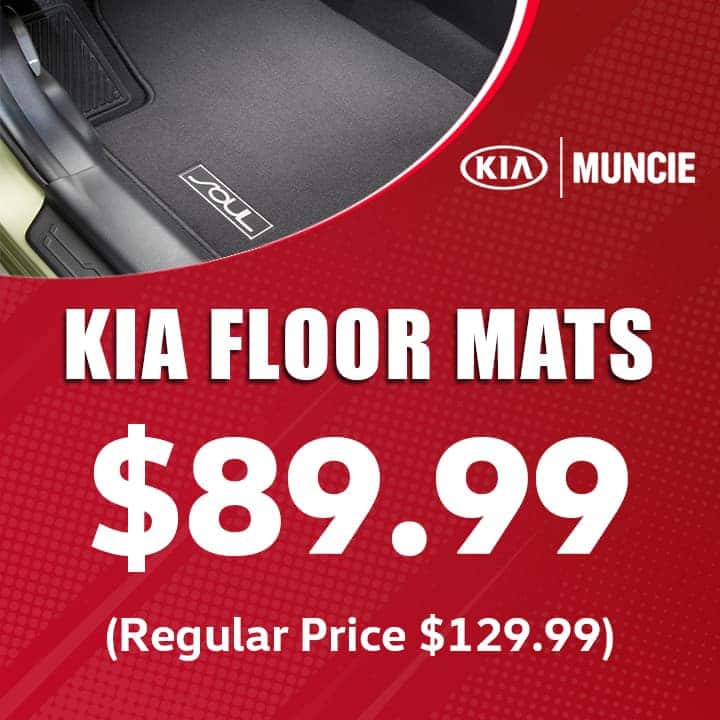 $89.99
Regular Price $129.99
EXPIRES: 08/31/2020
Kia of Muncie
6732 W. Hometown Blvd., Muncie, IN
Service: 765-358-7878
Kia Floor Mats
Expires: August 31, 2020
$89.99
Regular Price $129.99
Kia Wiper Blades (Installed)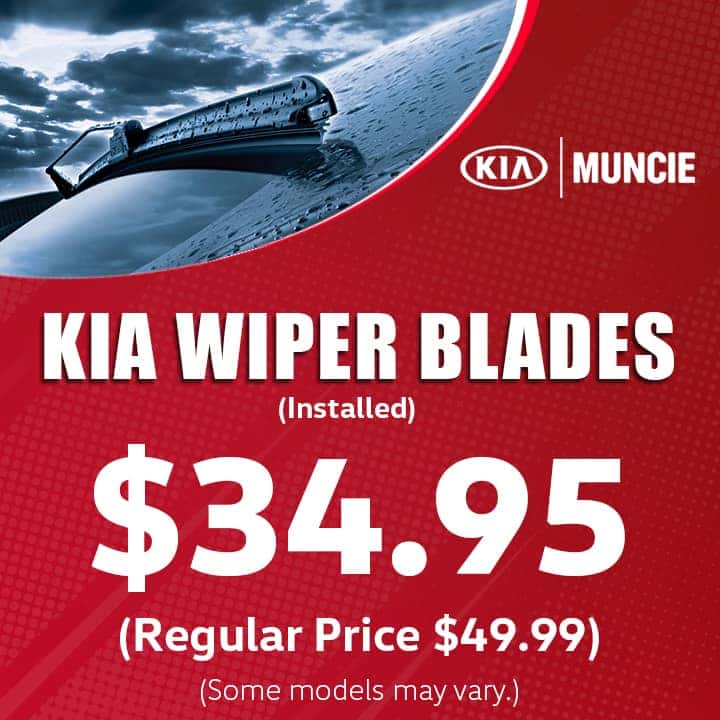 $34.95
Regular Price $49.99
Some models may vary. Offer Expires 8/31/20
EXPIRES: 08/31/2020
Kia of Muncie
6732 W. Hometown Blvd., Muncie, IN
Service: 765-358-7878
Kia Wiper Blades (Installed)
Expires: August 31, 2020
$34.95
Regular Price $49.99
Some models may vary. Offer Expires 8/31/20
Kia Parts Coupons at Kia of Muncie
When you are looking to upgrade your performance, enhance the look of your ride, or handle repairs, Kia OEM parts are essential to getting the job done right. Whether you drive a new or used vehicle, your maintenance concerns should be handled with genuine Kia parts. Not only can you turn to Kia of Muncie for a reliable selection, but our rotating Kia parts coupons also help Marion drivers stay on budget while accessorizing or upfitting their ride. Our fantastic prices on Kia OEM parts can help you stick to your routine maintenance schedule without going over budget. Learn more about the importance of using genuine Kia parts below!
Why Buy Kia OEM Parts?
When you need to handle a repair or want to improve the look and feel of your ride, it can be tempting to consider aftermarket parts. At first glance, these third party options may seem like a great way to get ahead on your budget. However, when you take a closer look at what you get for the price, the value of Kia parts and aftermarket options simply do not compare. Aftermarket parts are designed to fit as many vehicles as possible. That means they are built with generic designs the makers hope will fit on vehicles from sedans to SUVs. The result is parts that don't actually fit at all. This poor fit can actually cause the part to fail or lead to damage to your vehicle. Either result will mean expensive repairs and replacements in the end. When you opt for aftermarket parts, you think you are getting a good deal, but what you actually get are headaches and unreliable equipment.
When you decide to work with our genuine Kia parts, you can take on all of your Anderson travels with peace of mind. What's more, our Kia parts coupons allow you to enjoy the savings of aftermarket options and the reliability that only OEM parts can offer. If you want to take on repairs in your own %garage, you can follow our parts tips and tricks to work like a pro!
Shop and Save on OEM Parts With Kia of Muncie
If you want to upgrade your ride while maintaining the form and function the engineers who built your car intended, opt for Kia OEM parts every time. When you turn to Kia of Muncie, you will find a well-priced selection, expert guidance, and at-home tutorials for when you want to roll up your sleeves and work on your ride. If you prefer to let our certified technicians work on your behalf, schedule service with us today! If you have any lingering questions, contact us today to learn more!