Service Specials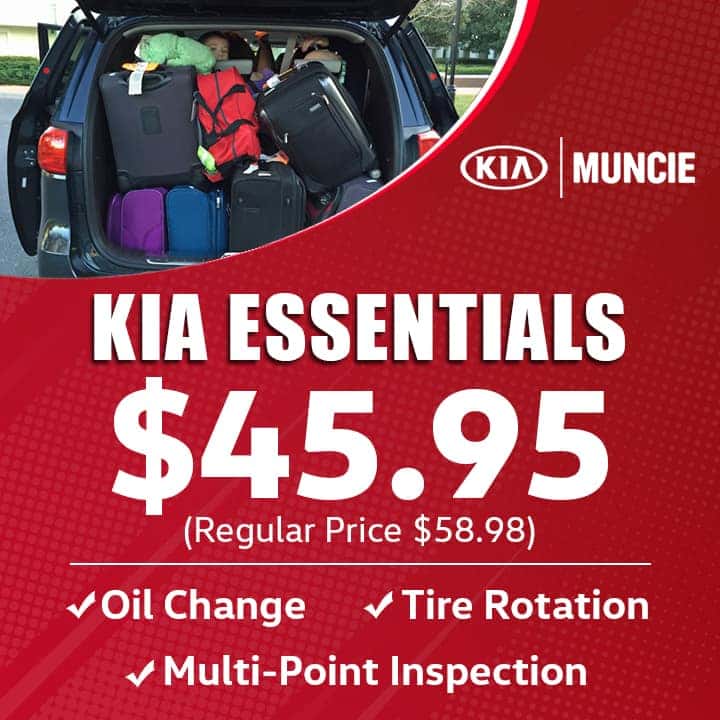 $45.95
Regular Price $58.98
Includes:
Oil Change
Tire Rotation
Multi-Point Inspection
EXPIRES: 08/31/2020
Kia of Muncie
6732 W. Hometown Blvd., Muncie, IN
Service: 765-358-7878
Kia Essentials
Expires: August 31, 2020
$45.95
Regular Price $58.98
Includes:
Oil Change
Tire Rotation
Multi-Point Inspection
Cabin Filter & Engine Air Filter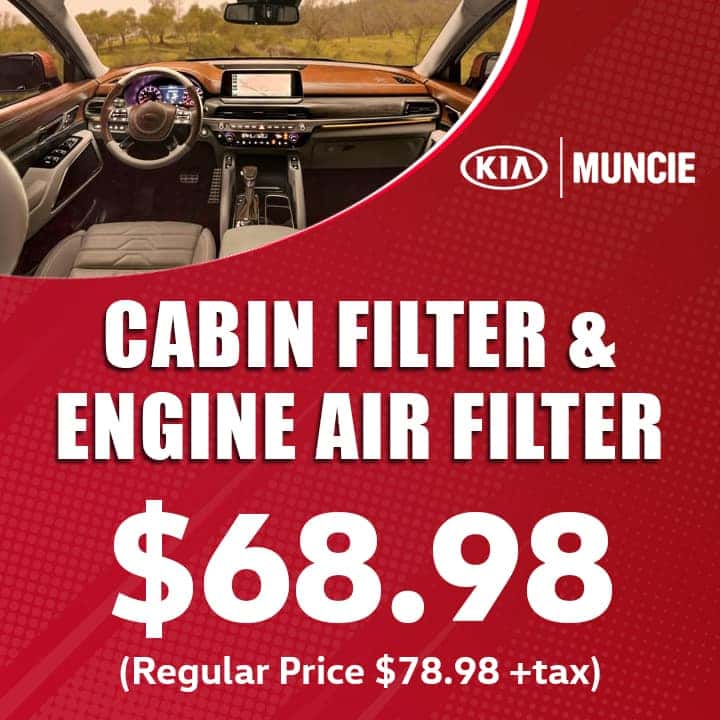 $68.98
Regular Price $78.98 plus tax
EXPIRES: 08/31/2020
Kia of Muncie
6732 W. Hometown Blvd., Muncie, IN
Service: 765-358-7878
Cabin Filter & Engine Air Filter
Expires: August 31, 2020
$68.98
Regular Price $78.98 plus tax
Offer Expires 8/31/20
Kia Service Coupons in Muncie
In need of a tune-up for your Kia? Perhaps you have been shopping around at other auto maintenance centers in Muncie only to be frustrated by high prices and poor service. The costs you were quoted may have even pushed you to delay your car care. When you turn to the Kia of Muncie service center, you will find a completely different atmosphere. We are here to help all of our Anderson customers through their maintenance with honest guidance. We also strive to help our Anderson community save with our Kia service coupons. Discover the importance of regular maintenance, along with ways you can save with our Kia dealer coupons below!
Why You Should Always Prioritize Service
Sadly, Fishers drivers sometimes believe that the cost of service is too high or the need for expeditious repairs is not that critical. Unfortunately, delaying service can result in expensive damage down the line. We offer our Kia dealer coupons to help make sure our customers can stay safe and afford service when they need it most. Below we list a few important reasons why you should never avoid automotive maintenance:
Safety: A well-maintained car is a safe one. Even minor car care concerns can become hazardous if left untreated.
Retain vehicle value: A vehicle with a strong service history fares well on the market. Should you decide to trade-in your ride, you can earn more for it if you are diligent with your maintenance.
Fuel Economy: Notice sluggishness in your ride? Feel like you are making your way to the pump to refuel more often? You may need to visit our Muncie service center to restore your Kia to its former fuel-efficient glory!
What Services Does Kia of Muncie Offer?
At Kia of Muncie, we work hard to offer Kia service coupons to help you save, but we can provide more than that! Our trained technicians have the resources and know-how to handle all of your car care concerns in a flash. Use our Kia dealer coupons and save on the following services and more:
Oil change
Tire rotation
Tire change
Brake repair
Brake replacement
Fluid check
Wiper replacement
Belt replacement
Transmission service
Not only do we provide competitive prices and Kia service coupons, but we also offer service financing options to help you take on maintenance in the most affordable way possible. We are always willing to work with our community to ensure automotive safety.
Turn to Kia of Muncie As Your Next Automotive Partner
When times are tough or life gets busy, car care remains a top concern. We strive to make sure that cost is never the reason for a customer to delay service. Contact us to learn more about our Kia dealer coupon offers or to find out about all of the services we provide.